Canon EF Lens to Fuji G-mount T Smart Expander 1.26x (GFX)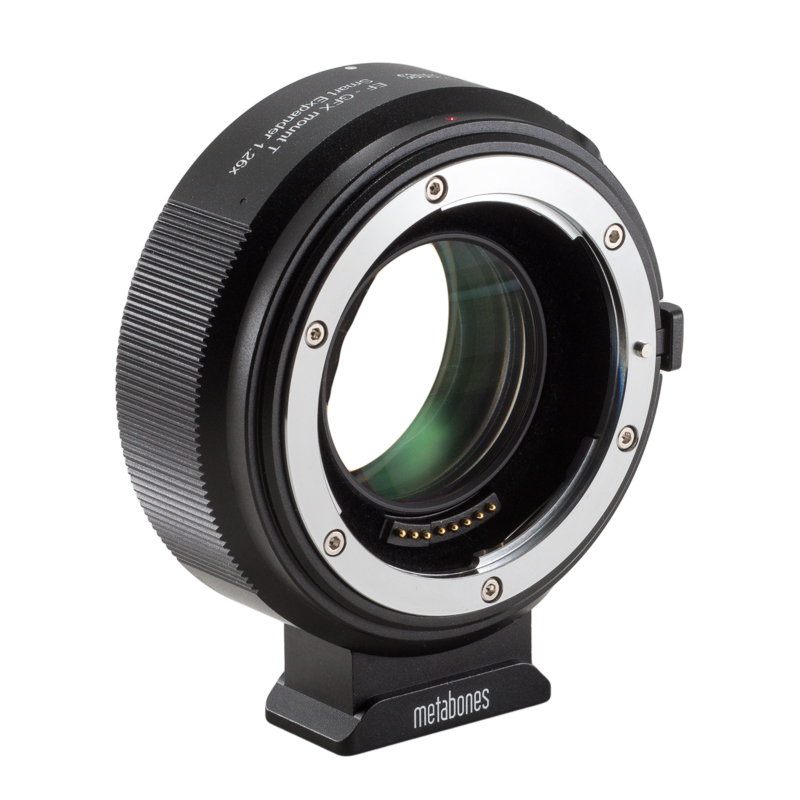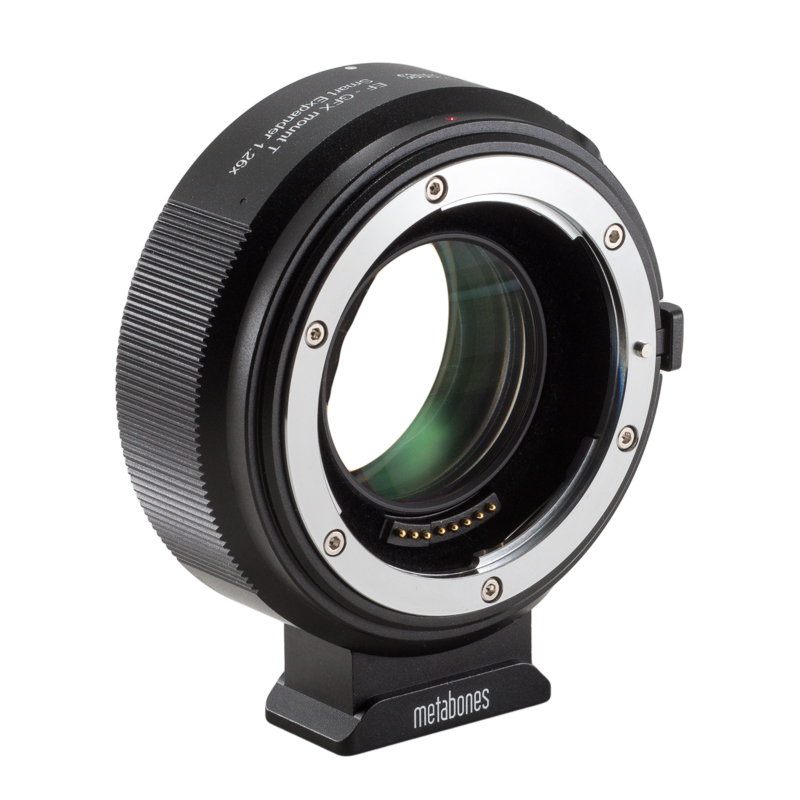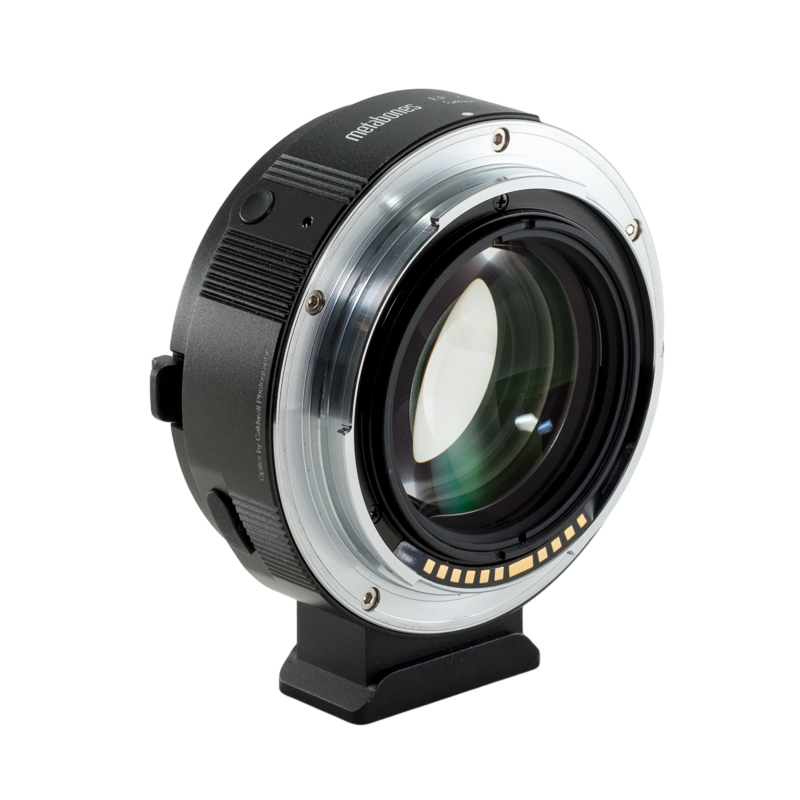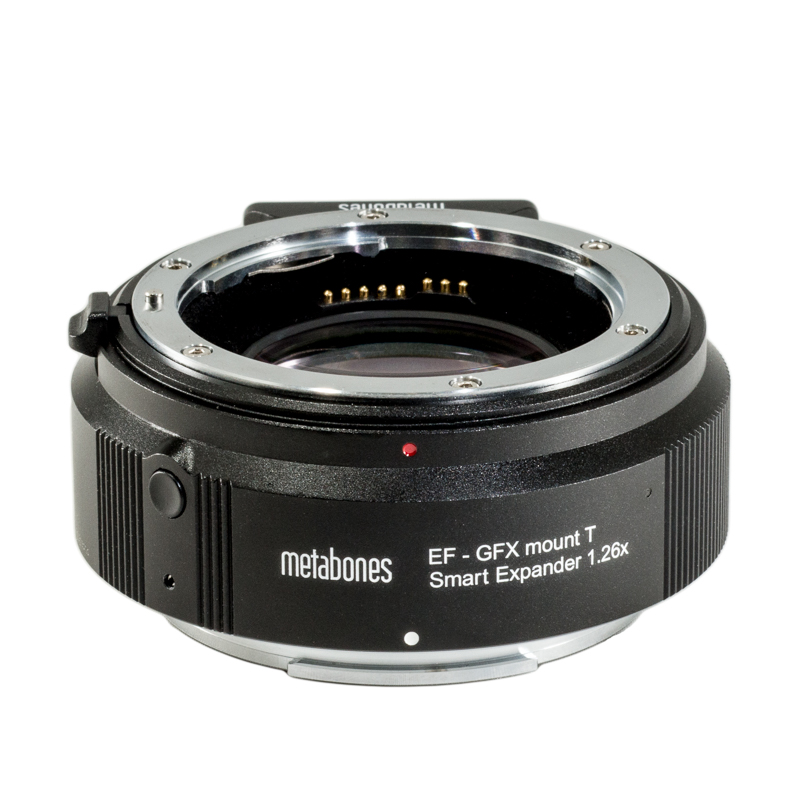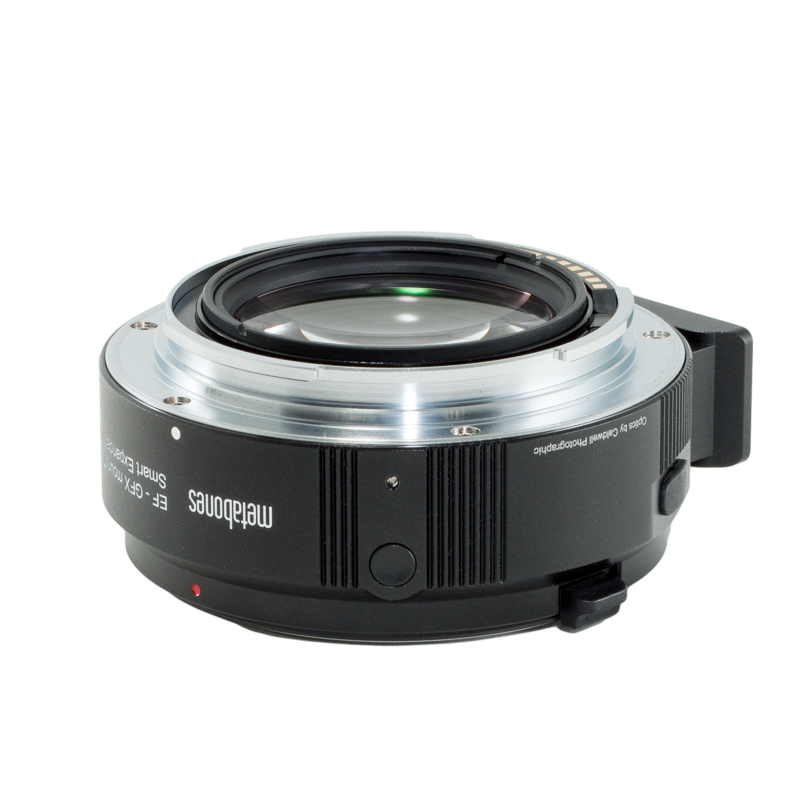 Key Features

Optical
Make Canon EF mount lens to cover the Fujifilm G-mount (GFX series) camera ;
Advanced 5-element/3-group optical design incorporating ultra-high index Lanthanum-based optical glass by Caldwell Photographic in the USA ;
Magnification of lens: 1.26x *
Crop Factor with Fujifilm GFX camera: 1.0x
Electronic
Canon EF mount lens to Fujifilm G-mount camera.
Autofocus. Phase-detection autofocus (PDAF) is supported no matter which AF lens is used. Adapters support PDAF by translating pertinent metadata about the optics between the lens interfaces. In this way, broad support of the widest range of lenses is made possible.
Lens iris/aperture is set by the controls on the camera body.
Optical image stabilization (IS) lens support.
Smooth iris support with the latest Canon (2009+), Tamron (SP series 2013+) and Sigma (2016+) lens models.
Focal length and aperture are adjusted in EXIF

(see note 3).

LED indicator shows communication status.
Powered by camera body. With most lenses, no external power source required.
Mechanical
The tripod foot is detachable and compatible with Arca Swiss, Markins and Photo Clam ball heads.
Flocking to reduce internal reflection.
Aluminum alloy and brass construction with chromium plating.
Satin surface finish.
Detachable Arca-Type tripod foot compatible with Arca Swiss, Markins, and Photo Clam ball heads(clamp directly or attach to quick release plate by a 1/4"-20 screw).
* Note: Aperture values decrease by 2/3 of a stop used in conjunction with this Expander.
Limitations
In some rare cases lens hoods designed for 3:2 may need to be removed for 4:3 use with Smart Expander.
Each lens needs to go through a calibration procedure <click to view> when first used. Refer to the online user manual on Metabones' web site for instructions.
Autofocus may have unsatisfactory performance and may not work at all with some lenses
For video autofocus, increasing FOCUS SENSITIVITY and decreasing AF SPEED are required under the AF-C CUSTOM SETTING (MOVIE) menu.
For video, aperture priority or manual exposure is recommended to avoid exposure flickering. EF lenses are not capable of fine-grained control of the aperture required by Fujifilm cameras.
AF+MF and lens aberration correction are not supported.
Some film-era lenses may not be able to achieve sufficient AF accuracy required for digital cameras. Worn lenses with faulty sensors may lead to AF problems on a mirrorless camera even though the lens may appear to function normally on a DSLR.
Aperture diaphragm makes frequent noises with older lenses. Use aperture priority and manual exposure modes, or use a lens which supports smooth iris.
With IS/OS/VC lenses the IS MODE setting is ignored and both SHOOTING ONLY and CONTINUOUS modes behave in the same way which is similar to a Canon camera but different from what Fujifilm OIS lenses do. This is done to maximize IS effectiveness. A negative consequence of this is that there may be no OIS during focus check.
MF Distance Display does not work (although AF Distance Display does, if the lens transmits distance information). Since Metabones has a track record of releasing new firmware updates which significantly improve the features, performance, compatibility and reliability of existing products, these limitations are subject to change in the future. Please refer to the product pages on Metabones' web site for the most up-to-date disclosure.
Unsupported List
EF-S lens. EF-S lenses require modification to fit or may remain incompatible even after modification.
Lens correction such as peripheral shading, CA and distortion
Focus confirmation "chip" (e.g. Dandelion)
M42 screw mount adapters (see note 3)
Stacking non-Metabones/non-Conurus mount adapters on top (see note 4 and list of lenses which require modification below.)
Description

Metabones Expander 1.26x
The EF - GFX Expander 1.26x allows Canon EF mount lenses to be mounted on Fujifilm GFX camera bodies without getting dark and / or soft corners. The magnification factor of 1.26x perfectly matches the image circle of the full-frame Canon EF lenses to the medium-format sensor of the GFX series cameras, and therefore the diagonal field-of-view (FOV) remains exactly the same.
The optical design consists of 5 elements in 3 groups, incorporating ultra-high index Lanthanum-based optical glass as well as one element made of fused silica, resulting in extremely good performances with professional-grade f/2.8 zoom lenses. For example, a 24-70mm f/2.8 lens becomes a 30-88mm f/3.5 zoom, and a 70-200mm f/2.8 lens becomes an 88-252mm f/3.5 zoom.
Due to the nature of focal extenders, the aperture values decrease by 2/3 of a stop; f/2.8 becomes f/3.5 and f/2 becomes f/2.5. High-speed fixed focal length lenses such as the 50mm f/1.4 will be transformed into a very fast 63mm f/1.8 standard lens for the GFX system.
The EF-GFX mount Smart Expander features Metabones' electronic integration, including phase-detection autofocus (PDAF), in-body image stabilization (IBIS), optical image stabilization (called IS/OS/VC by various lens manufacturers) and smooth iris. The button on the Smart Expander toggles between auto aperture (programmed exposure or shutter priority) and manual aperture (aperture priority or manual exposure). If a manual lens with no electronics is attached, the button brings up the manual lens selection on the camera body so that focal length can be chosen for correct IBIS operation and EXIF.
Tested Cameras
Fujifilm GFX 50S, GFX 50R and GFX 100
Tested Lenses
| | | |
| --- | --- | --- |
| | | Smooth Iris |
| | Model | Support |
| | Canon EF 40mm F/2.8 STM | √ |
| | Canon EF 50mm F/1.2L USM | |
| | Canon EF 50mm F/1.4 USM | |
| | Canon EF 50mm F/1.8 II | |
| | Canon EF 50mm F/1.8 STM | √ |
| | Canon EF 85mm F/1.2L II USM | |
| | Canon EF 100mm F/2.8 USM Macro | |
| | Canon EF 100mm F/2.8L IS USM Macro | √ |
| | Canon EF 135mm F/2 L USM | |
| | Canon EF 200mm F/2.8L II USM | |
| | Canon EF 300mm F/2.8L IS II USM | √ |
| | Canon EF 300mm F/4L IS USM | |
| | Canon EF 400mm F/5.6l | |
| | Canon EF 8-15mm F/4L Fisheye | √ |
| | Canon EF 16-35mm f/2.8L II USM | √ |
| | Canon EF 17-35mm F/2.8L USM | |
| | Canon EF 24-70mm F/2.8L II USM | √ |
| | Canon EF 24-70mm F/2.8L USM Mk1 | |
| | Canon EF 24-105mm F/4L IS USM | |
| | Canon EF 28-70mm F/3.5-4.5 II | |
| | Canon EF 28-135mm F/3.5-5.6 IS USM | |
| | Canon EF 28-80mm F/3.5-5.6 III USM | |
| | Canon EF 70-200mm F/2.8L IS II USM | √ |
| | Canon EF 70-200mm F/4L IS II USM | √ |
| | Canon EF 70-200mm F/4L USM | |
| | Canon EF 70-300mm F/4-5.6 L IS USM | |
| | Canon EF 100-400mm F/4.5-5.6 L IS II USM | |
| | Canon EF TS-E 17mm f/4L | |
| | Canon EF TS-E 24mm f/3.5L II | |
| | Sigma 24mm F/2.8 Super Wide II | |
| | Sigma 35mm F/1.4 DG Art 012 | √ |
| | Sigma 50mm F/1.4 DG HSM non art | |
| | Sigma 135mm F/1.8 DG HSM Art 017 | √ |
| | Sigma 24-35mm F/2 Art 015 | |
| | Sigma 24-105mm F/4 OS HSM Art 013 | |
| | Sigma 100-400mm F/5-6.5 DG OS | |
| | Tamron 45mm F/1.8 VC (F013) | |
| | Tamron 10-24mm F/3.5-4.5 VC HLD (B023) | |
| | Tamron 15-30mm F/2.8 VC (A012) | |
| | Tamron 17-50mm F/2.8 VC (B005) | |
| | Tamron 18-250mm F/3.5-6.3 Di II (A18) | |
| | Tamron 18-270mm F/3.5-6.3 Di II VC (B003) | |
| | Tamron 18-270mm F/3.5-6.3 Di II VC PZD (B008) | |
| | Tamron 24-70mm F/2.8 Di VC USD (A007) | |
| | Tamron 28-300mm F/3.5-6.3 XR Di (A06) | |
| | Tamron 35-150mm F/2.8-4 Di VC OSD (A043) | |
| | Tamron 70-210mm F/4 Di VC USD (A034) | |
| | Tamron 70-300mm F/4-5.6 Di VC USD (A005) | |
| | Tokina 50mm F/1.4 Opera | |
| | Laowa 100mm F/2.8 Marco CA Dreamer | |
| | Zeiss ZE 18mm F/3.5mm Distagon | |
| | Canon EF-Extender (Teleconverter) | |

Note :
1. EF-S lenses do not fit on Smart Expander

TM

. Some EF-S lenses may be modified to fit, but do so at your own risk.
2. Third-party lenses designed for APS-C format do not have enough coverage when used in conjunction with Smart ExpanderTM.
3. Some improperly-made M42 screw mount adapters may short the electronic contacts of the Smart ExpanderTM and cause damage to the Smart ExpanderTM and/or camera body.
4. Many manual focus lenses (e.g. OM 28/2.8, OM 50/1.8, Leica R 15/3.5) have rear protrusions (spikes, levers, other appendages) which would damage the optics and/or housing of Smart ExpanderTM. They need to be modified before they can be safely used on Smart ExpanderTM Check and make sure there are no rear protrusions from the adapter/lens combination before using on Smart ExpanderTM. Scratches and damages caused by rear protrusions on Smart ExpanderTM are not covered by warranty.
---
Your PayPal receipt is your order confirmation. There is no separate email confirmation until the shipment takes place.
Disclaimer: we are NOT licensed, approved or endorsed by Canon and Fujifilm.
---
Why Metabones®?
Since its inception, Metabones has been designing and manufacturing lens adapters recognized among professionals and enthusiasts as leaders in design and workmanship.
Contrary to the popular trend of other factories using an aluminum ring painted black on the camera-body-side, we instead take no short-cut but use precision-machined brass with chromium plating on both the camera-body and the lens sides of our adapters, in order to ensure smooth mounting, great appearance, and durability. The lens side of the adapter features a strong leaf-spring structure, strengthening the adapter-lens connection and ensuring tightness of the lens in order to reduce wear and prevent focus errors and optical alignment issues from appearing.
Metabones uses matte-black treatment to keep internal reflection to a minimum in order to maintain the maximum optical quality possible with the lens.
All Metabones Adapters follow this tradition of uncompromising precision, robust build quality and outstanding finish. Our new Smart AdapterTM series of products add industry-leading electronic interfacing technology from Canada, with true electronic control of the lens' aperture directly from the camera body.
Features
Both camera-side and lens-side of the adapter are made of brass, precision-machined and plated with chromium.
Satin surface finish - just like your OEM lens and camera mounts.
Precise fit and solid connection - lens has no play, gap or wiggling when mounted on adapter and no adjustments are required to fit your lens.
Designed to reach infinity focus while maintaining the correct registration distance required to maintain optical quality of CRC lenses or lenses with floating elements.
Our Smart AdapterTM series adapters have the following additional features
True electronic integration of aperture diaphragm - let camera automatically choose aperture in P or S exposure modes, or dial in yourself on the camera body in A or M modes.
EXIF data such as lens identification, focal length and aperture.