Metabones adds autofocus to Smart Adapter

Vancouver, Canada, November 7, 2012 - Metabones adds autofocus support for select Canon lenses to its Smart Adapter II (for mounting EF and EF-S mount lenses on Sony NEX cameras).
To ensure the best possible accuracy, autofocus is enabled only for late-model Canon-brand lenses (introduced circa 2006 or later). Significant effort has been put into focus accuracy research and we conclude that only lenses capable of the most precise control in their autofocus mechanisms could reliably deliver pixel-accurate results when adapted to Sony NEX cameras. Autofocus is disabled for most older Canon lenses and most third-party lenses, but aperture control, image stabilization (if applicable), EXIF and other features will continue to work just like before.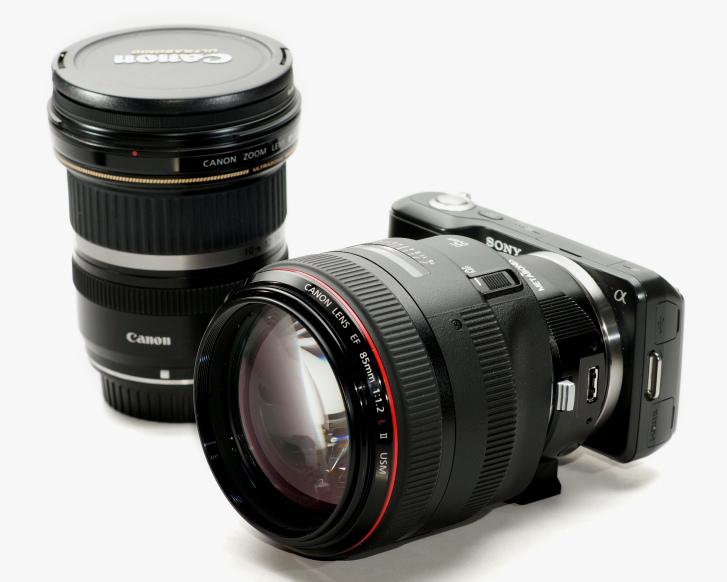 Autofocus speed is significantly slower than on a DSLR camera. Phase detection feature of NEX-5R/6 is not used at this time. As a result, autofocus speed of a Canon EF/EF-S lens on Sony NEX is usually slower than on the new Canon EOS M. Compared with Sony's own A-mount lens adapters, Metabones Smart Adapter II is faster than LA-EA1 but slower than the translucent-mirror-equipped LA-EA2.
Smart Adapter II with autofocus support is available right now at the same price (US$399+applicable tax/duty) from Metabones' distributors in many countries all over the world and the Metabones online shop. Existing Smart Adapter II customers may send their units back for an upgrade for a nominal shipping/handling charge of $50.